PAGE VIEW : 23,135
Product Information :
Name :
ICP - OES เครื่องวิเคราะห์หาปริมาณโลหะหนัก
Category :
เครื่องมือวิทยาศาสตร์ / สารเคมีและวัสดุภัณฑ์สำหรับห้องปฏิบัติการ
Sub - Category :
Inductively Coupled Plasma (ICP)
Brand :
Teledyne Leeman Labs
Product Type :
สินค้า, ผลิตภัณฑ์
Short Description :
The Prodigy7 is the synthesis of advanced technology and user simplicity.

Product Detail :
Teledyne Leeman Labs has taken a radically different approach with the Prodigy7. Through years of effort, our team of highly specialized engineers and application chemist have produced an Inductively Coupled Plasma (ICP-OES) instrument in which superior analytical performance does not have to be traded off for any reason including price. And while the Prodigy7 offers all of the advanced capabilities some laboratories require none of them have to be purchased up front if not needed. They can be easily added later if needs change.
The Prodigy7 is the synthesis of advanced technology and user simplicity. The summation of years of refinement, the Prodigy7 has distinct advantages over other ICPs:
Large format, advanced CMOS Array Detector for true simultaneous measurement
Full wavelength coverage from 165 nm - 1100 nm
500 mm, Low Stray Light Optics
Full Spectral Access (FSA) captures the entire wavelength spectrum in a single reading
Available in Axial, Radial, and Dual-View configurations
Twist-n-Lock, Auto-Aligning Sample Introduction System
Compact benchtop design
Designed for fast system startup and reduced gas consumption
Product Overview
Prodigy7 brings together the latest in solid-state detector technology and Leeman Labs' advanced high dispersion Echelle spectrometer to provide the most powerful ICP Spectrometer available today. Not only does Prodigy7 provide superb resolution, stability and detection limits for reliable results, it also provides a wide variety of optional features that are guaranteed to enhance the capabilities of your inorganic analysis lab. Prodigy7 delivers reliable performance at an affordable price and smaller footprint than most other ICPs on the market today.
Optics
The heart of any spectrometer is its optical system. Prodigy7 offers a temperature controlled aluminum optical enclosure for unmatched stability. To enhance stability further, Prodigy7 treats the plasma source as an optical component mounting it directly to the spectrometer, not the instrument chassis.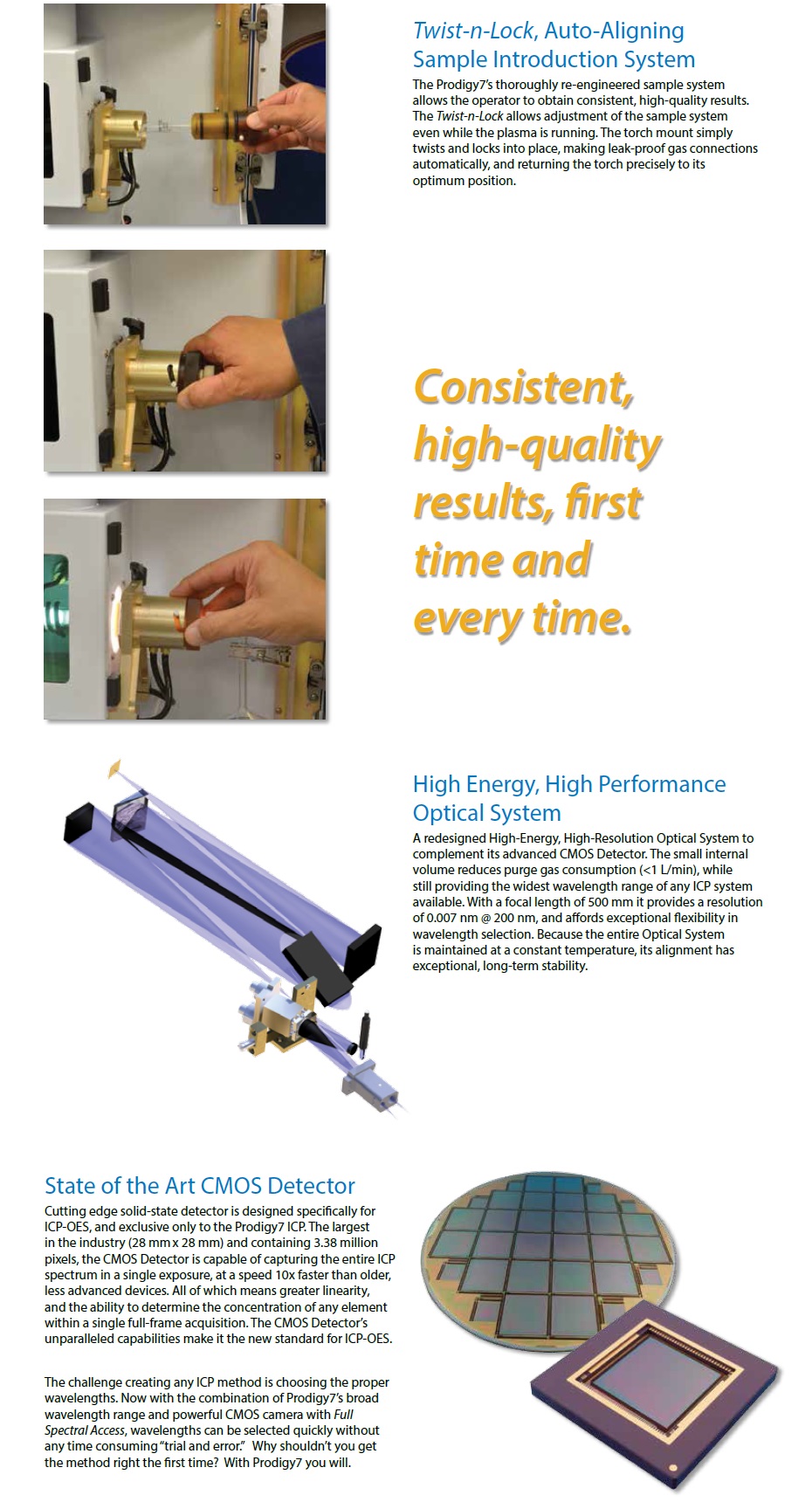 Prodigy7 Software