PAGE VIEW : 1,027
Product Information :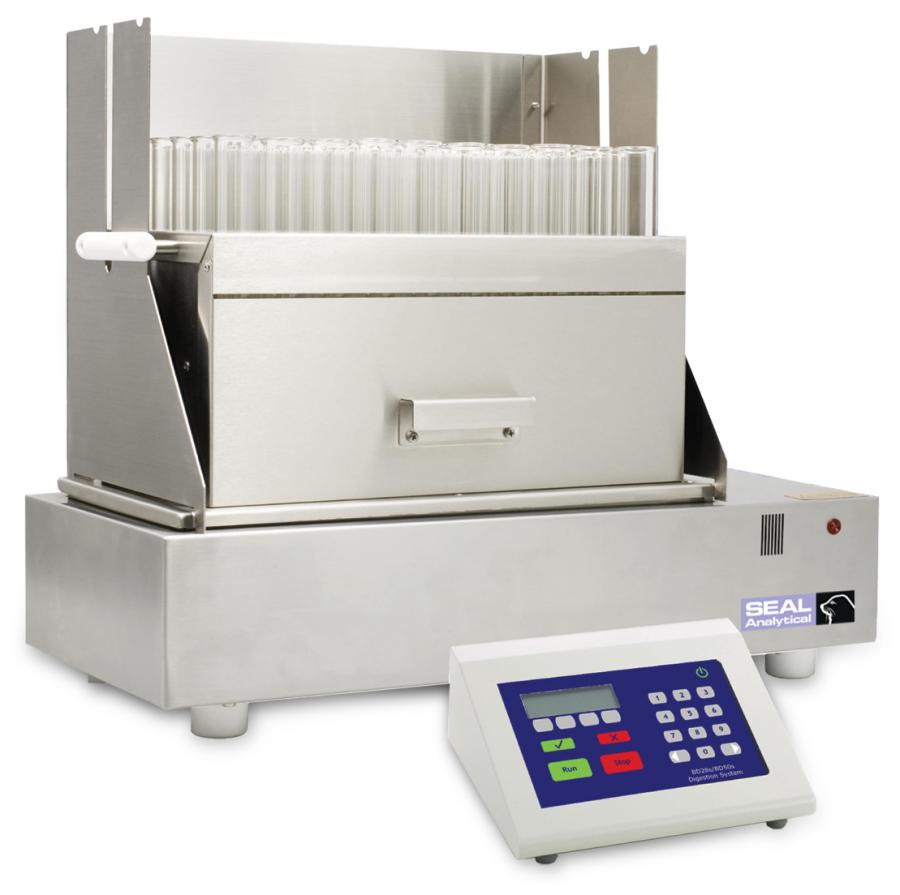 Category :
เครื่องมือวิทยาศาสตร์ / สารเคมีและวัสดุภัณฑ์สำหรับห้องปฏิบัติการ
Sub - Category :
SEAL Analytical
Model :
BD50 & BD28 Digestion Block
Product Type :
สินค้า, ผลิตภัณฑ์
Short Description :
The SEAL Analytical Digestion Block is your key to successful kjeldahl digestions. The BD50 Digestion Block automates acid digestions for up to 50 laboratory samples simultaneously.

Product Detail :
BD50 & BD28 Digestion Block
The SEAL Analytical Digestion Block is your key to successful kjeldahl digestions. The BD50 Digestion Block automates acid digestions for up to 50 laboratory samples simultaneously. It is ideal for Total Nitrogen (TKN) and Phosphorous (TP) digestion. The SEAL Analytical Digestion Block uses a microprocessor to precisely control digestion conditions guaranteeing reproducible digestions, completely unattended even overnight. A Digestion Block will relieve staff from long digestion processes and prepare samples for analysis in advance of your workday, significantly improving laboratory productivity. The solid high-grade aluminium block, encased in a stainless steel housing, ensures an acid resistant and very low maintenance block digester. Users can control temperatures, program digestion methods, pause steps and detect errors through the separate, programmable, acid resistant Controller. The addition of a Block Digester to your laboratory will reduce manual handling, improve safety, increase productivity and improve the quality of your digestions irrespective of the operator or the batch. The SEAL Analytical Digestion Block is used for a variety of applications including TKN and TP digestions on, environmental, food, pharmacy, chemistry and biochemistry samples.
SEAL Digestion Block System Advantages
Small footprint, saves fume hood space

BD50 accepts: 50 x 75 ml tubes, 50 x 100ml tubes,

BD28 accepts 28 x 250ml tubes (larger vial ideal for soil digestion)

Compact system includes:digestion block unit, separate microprocessor controller, tube rack/ draft shield, a set of digestion vessels, integrated cooling stand.

Manufactured from solid aluminium, encased in stainless steel, for acid and corrosion resistance

Inert glass digestion tubes

Unique flat plate design eliminates temperature variation across the digestion block

Automate and replicate even the most complex digestion processes with 20 digestion methods of up to 30 steps programmable

Separate controller to protect the electronics and the operator from acid fumes.

Digests will be held and samples protected even during a power failure.

Safety cut out to protect from overheating.

Pre-heating/ standby heating allows quick start runs
The SEAL Digestion Block System is Ideal For:
Total Kjeldahl Nitrogen

TKN Digestion Block

Total Phosphorous TP

Metals

Mercury

Chemical Oxygen Demand (C.O.D) and more
Optional Accessories
Tear Drop Stoppers for the digestions tubes to reduce cross contamination and acid loss

Splash Head for the safe addition of reagents during the digestion process.

Straight sided or volumetric glass digestion tubes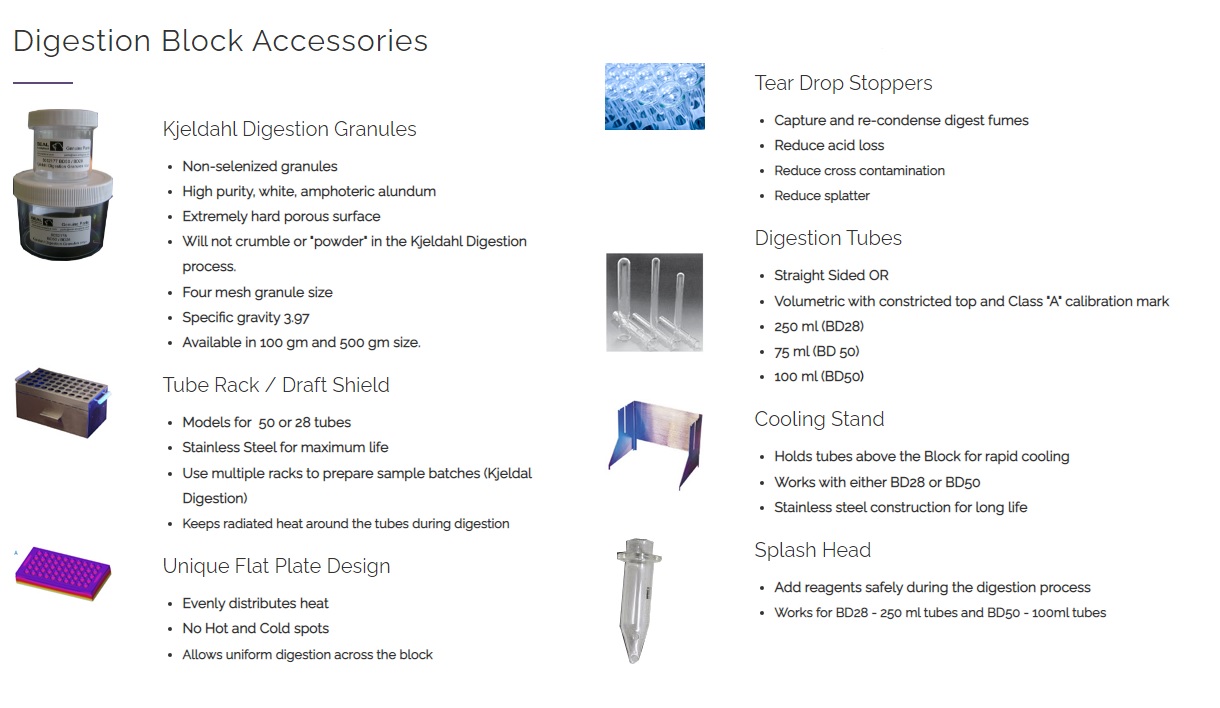 DEENA ll- For Safe, Reliable Sample Preparation & Metals Digestion
The DEENA ll is manufactured by SEAL Analytical. DEENA is part of the SEAL Sample preparation group of products that automate chemical addition, sample preparation and digestion systems used in the analysis of mercury and metals in environmental laboratories. With DEENA you not only automate the steps involved in sample preparation you also eliminate the manual dispensing of corrosive acids and other dangerous reagents. (SEAL DEENA is branded Thomas Cain in Asia)
DEENA II is a sample digestion system that fully automates the digestion process ensuring each sample is treated exactly the same, safeguarding against human error.
DEENA II will:
Accurately dispense small volumes of reagents into sample tubes
Mix thoroughly
Apply heat
Fill to volume after digestion is completed
DEENA II Digestion System Advantages
Safer digestions with the elimination of manual dispensing of corrosive acid and other dangerous reagents
Small footprint, allows bench top placement and saves fume hood space
Automates the digestion process and frees up laboratory personnel
Reliable and repeatable automation with every sample treated exactly the same
No cross contamination
No direct contact with sample or vial
Even heating of every sample
Time saving features such as overnight digestions and standby "warm" feature to rapidly bring samples up to digestion temperature
Suitable for EPA approved methods
Durable- constructed to reliably run in the harsh digestion environment it operates in
Real-time reporting and sample tracking
Intuitive & completely customizable software
Commonly used methods are pre-loaded
DEENA ll is Ideal For:
Reliable metals digestions
Reliable Total Phosphorous and Nitrogen digestions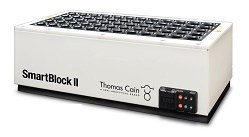 SmartBlock ll- Graphite Heating Block
For Trace Metal Digestions SOILS - SLUDGES - DRINKING WATER - WASTEWATER
SmartBlock Graphite Heating BlockSmartBlock ll is a graphite heating block that will simultaneously digest up to 60 samples and it will do it faster, simpler and safer than digestions carried out using traditional laboratory equipment. The robust construction, small footprint and economical pricing makes it ideal for small laboratories or those with limited space looking for simpler and safer digestions.
The SmartBlock ll is designed to address common digestion safety issues as well as significantly improve laboratory productivity.
SmartBlock ll Advantages
Fast, even heating of both the sides and base of digestion tubes
Heating from ambient to 180

o

C
Excellent temperature stability eliminating the need to move individual digestion tubes to a more favorable position
Solid graphite heating block with rugged teflon coating eliminating corrosion and sample contamination
Chemically inert and heat resistant digestion tubes
Graduated, single use, flat bottom digestion tubes not only optimise heat transfer, they eliminate the need for digestion beakers, volumetric flasks, storage containers, graduated cylinders etc
Minimised heat transfer to surrounding workspace
Designed to significantly reduce required sample volume, chemicals used, digestion time and power consumption
Built-in safety features to protect samples and operators
Simple to use
Reproducible results
Other Product In Group
"SEAL Analytical (3)"